Congratulations on joining the Proton community! 
To help you do more with Proton Mail, we're introducing four quick actions to help you discover your new inbox:
Discover how our privacy features protect you
Set up automatic forwarding from Gmail
Change an account login to your Proton Mail address
Get the Proton Mail app on your iPhone or Android device
Once you've completed all actions, we'll upgrade your storage space to 1 GB for free, allowing you to keep even more emails in your inbox.
If you already have a free Proton Mail account, you can start completing actions over the next few days.
How to track your progress
Log in to the Proton Mail web app(new window), and you'll see your list of actions below the messages in your inbox. Completed actions will appear with a checkmark.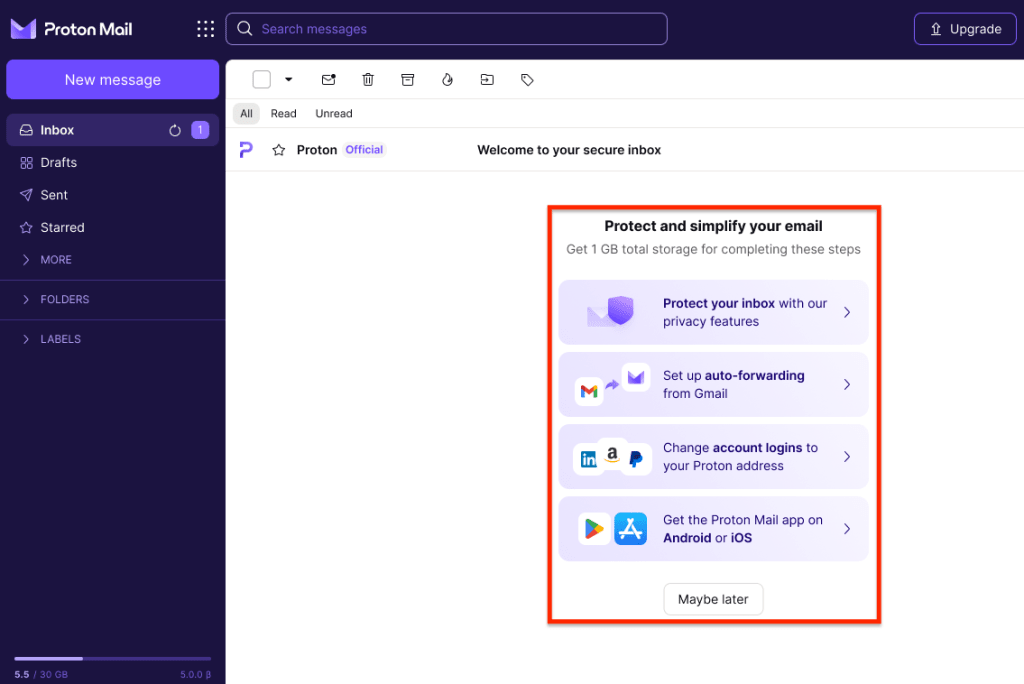 If you have five or more messages in your inbox, you'll find the get-started actions at the bottom left of your inbox above your storage space.
You can also access them by going to Settings → Open checklist.
How to complete the actions
Click on each action to start it. Once you complete an action, a checkmark will appear next to it.
After you complete all the actions, you'll receive an email confirming that your total inbox storage has increased to 1 GB. It's that simple!
At Proton, we believe that privacy should be the default, and everyone should be in control of how their data is shared and stored online. If you'd like to support our development of privacy-focused services, you can sign up for a free account and complete the actions within 15 days.
Thank you for being a valuable member of the Proton community. We appreciate your support!