Open-source and encrypted
password manager
Proton Pass secures your passwords and identity with end-to-end encryption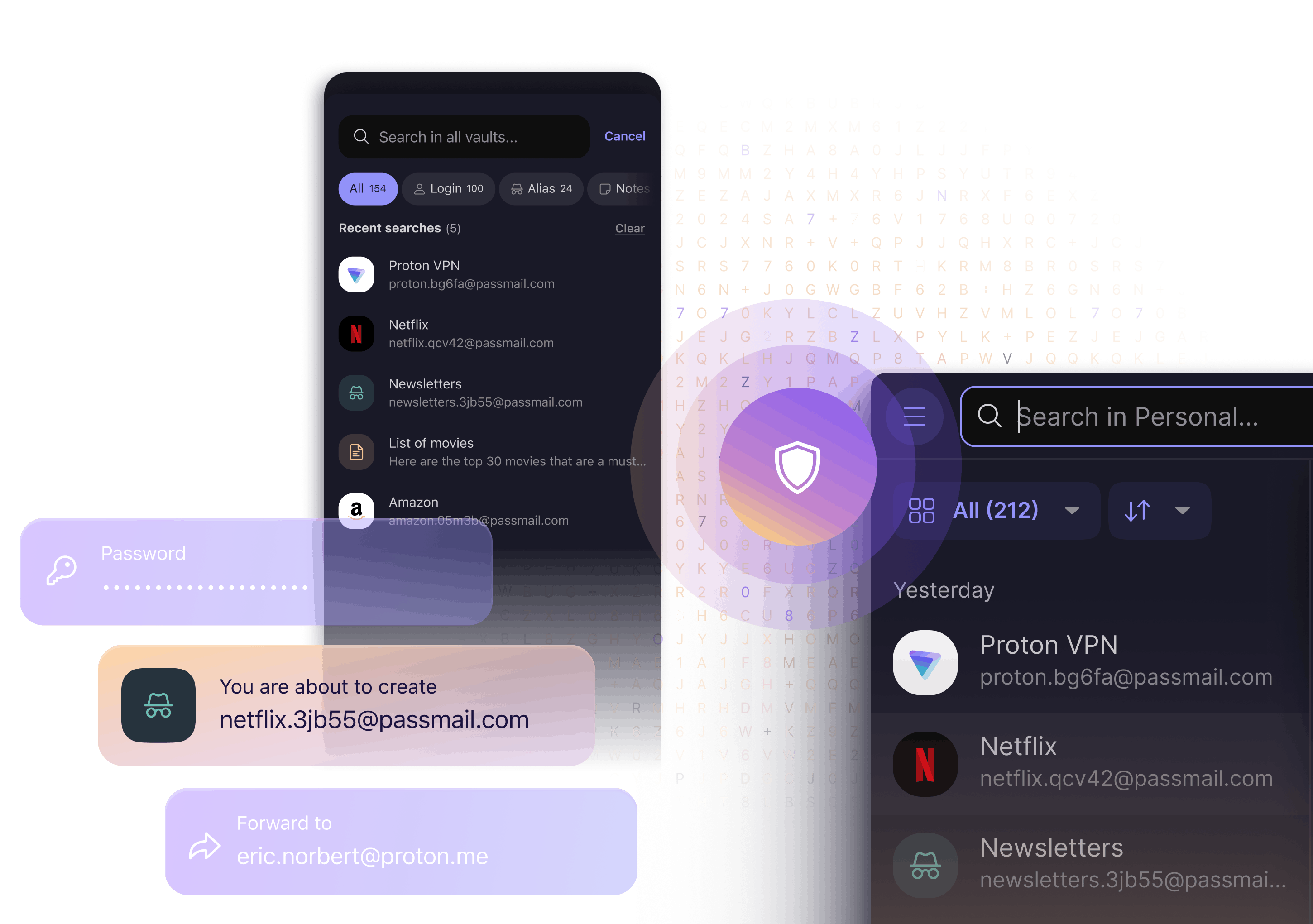 Fast and secure login on any device

Generate secure passwords
Quickly generate secure passwords whenever you create a new online account. Proton Pass helps you safely store your login credentials, notes, credit card information, and more.

Easy sign in
Autofill passwords, forms, and two-factor authentication passcodes on all desktop and mobile devices with one click or tap.
Not just a password manager, but an identity manager
Proton Pass is more than a tool to securely save passwords and automate logging in. It's also an identity manager that generates unique email aliases, preventing your true email address from being used to track you, exposed in data breaches, or targeted for spam.
Password security from a team that knows encryption
Proton Pass is built by the same team of scientists who met at CERN and created Proton Mail, the world's largest encrypted email service.

Proton has been recommended by the United Nations for sharing highly sensitive data, and our encryption is open source and battle tested.
Built by the community, for the community
Proton was created in 2014 through a public crowdfunding campaign and remains a community-supported company to this day.

We have no venture capital investors and don't generate profit from selling ads. Our unique model means our only obligation is to the Proton community.
Over 100 million people and businesses
trust Proton to protect their data
Protect your passwords for free, forever.
Proton Pass Free offers more than any other free password manager:
Unlimited logins and notes

Unlimited devices

10 hide-my-email aliases
Upgrade to Pass Plus to support our mission and access more features.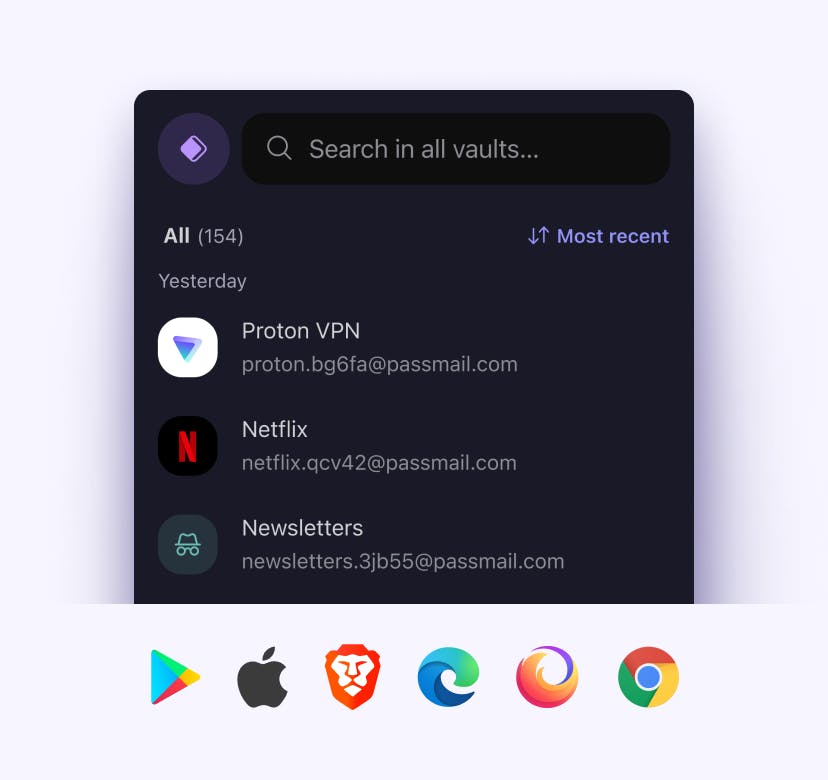 What makes Proton Pass different?
Like other Proton services, Proton Pass includes a unique combination of features that set it apart from all others.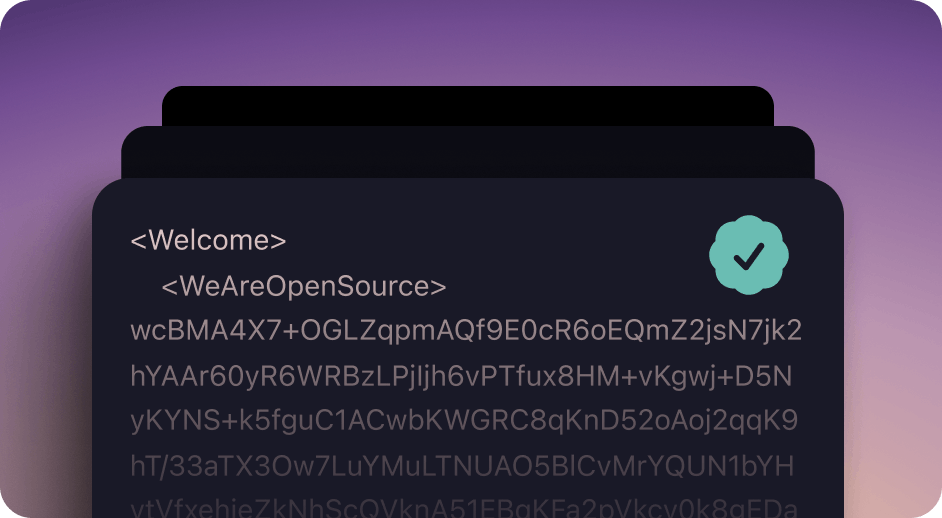 Open source & independently audited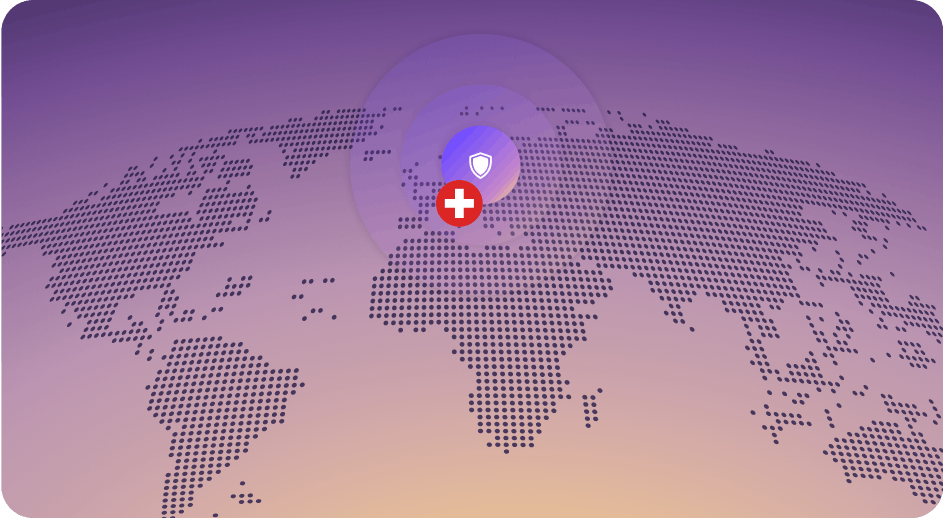 Protected by strong Swiss privacy laws
Proton is based in Switzerland, so your data is both fully encrypted and protected by some of the world's strongest data privacy laws.

Your data also never goes to the cloud, as we own and manage our own server infrastructure.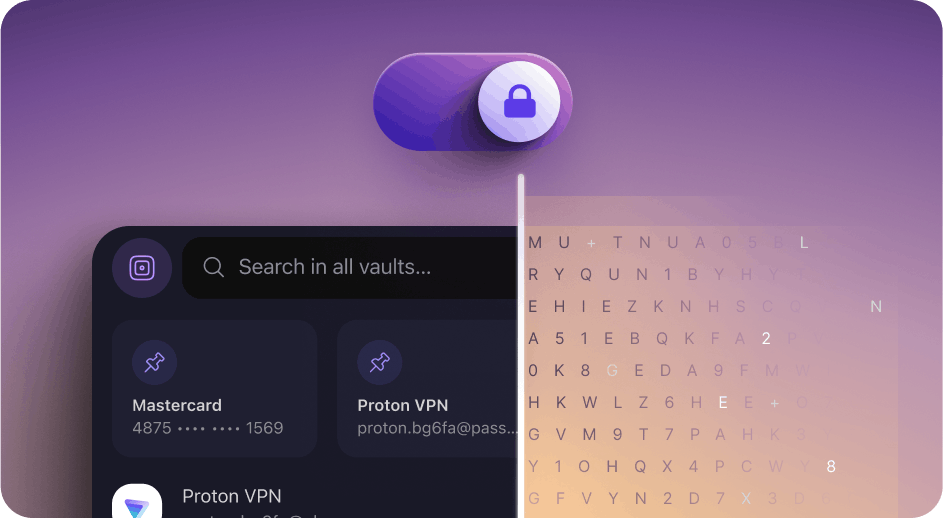 End-to-end encrypted
Proton Pass uses the same battle-tested end-to-end encryption as other Proton services. Proton Pass encrypts all your data, including usernames, web addresses, and all other login-related fields.

This encryption, combined with rigorous hashing and authentication, ensures your data remains inaccessible even to us.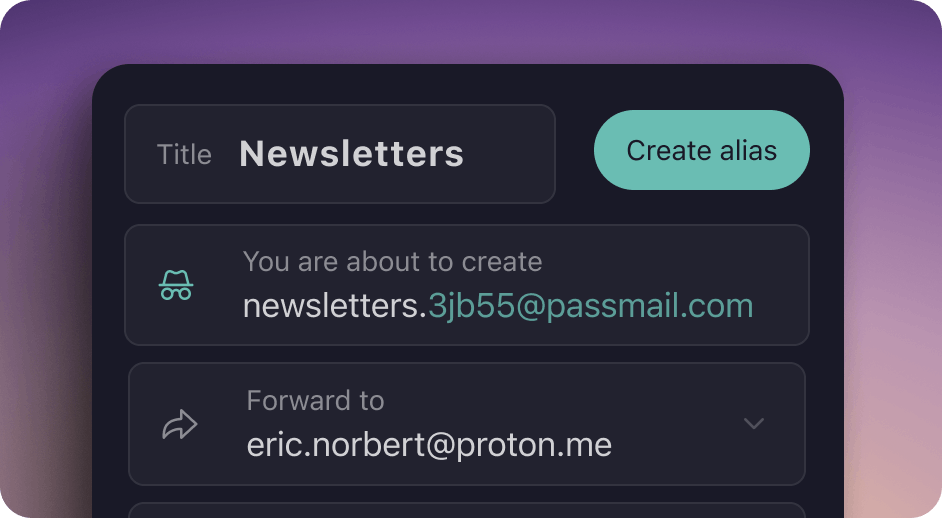 Hide-my-email aliases
Besides storing your logins, Proton Pass protects your identity with an integrated email alias feature.

Whenever you sign up for a new online account, Proton Pass can automatically create an alias to keep your actual email address protected.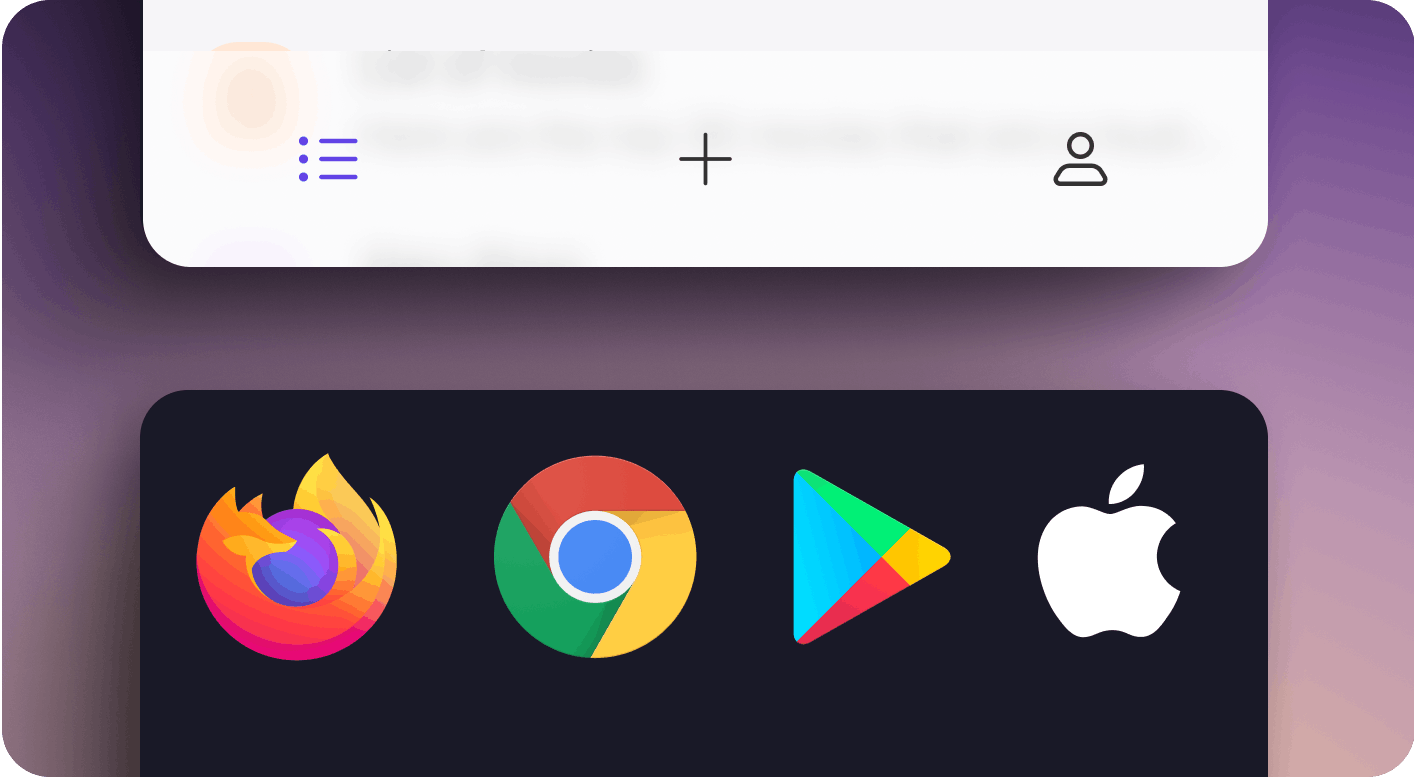 Available anywhere you need it
Proton Pass has apps for Android and iPhone and browser extensions for all major browsers, including Chrome, Edge, Firefox, Brave, and more.

Download Proton Pass for your preferred platform and start protecting your online identity today.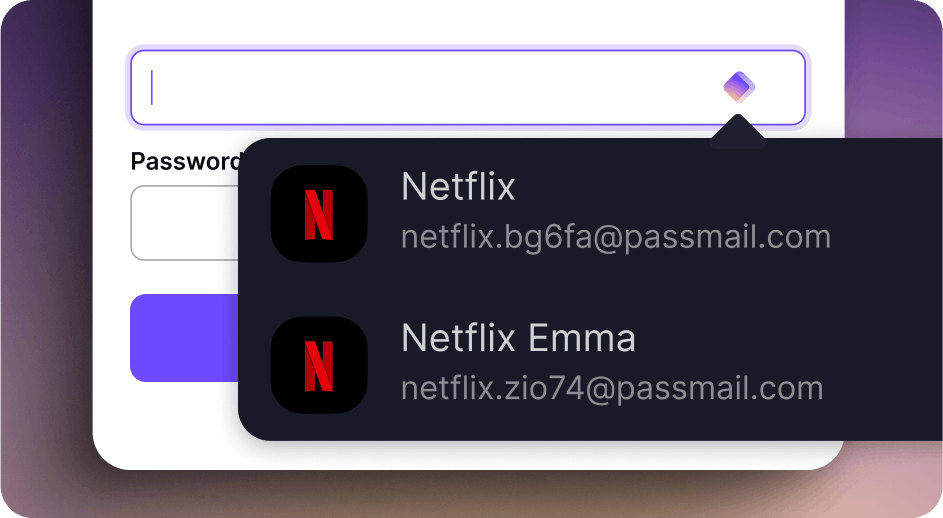 Sign in faster with Proton Pass
Proton Pass recognizes the websites and apps you use and autofills forms with your credentials for you on any browser or device. No need to copy and paste.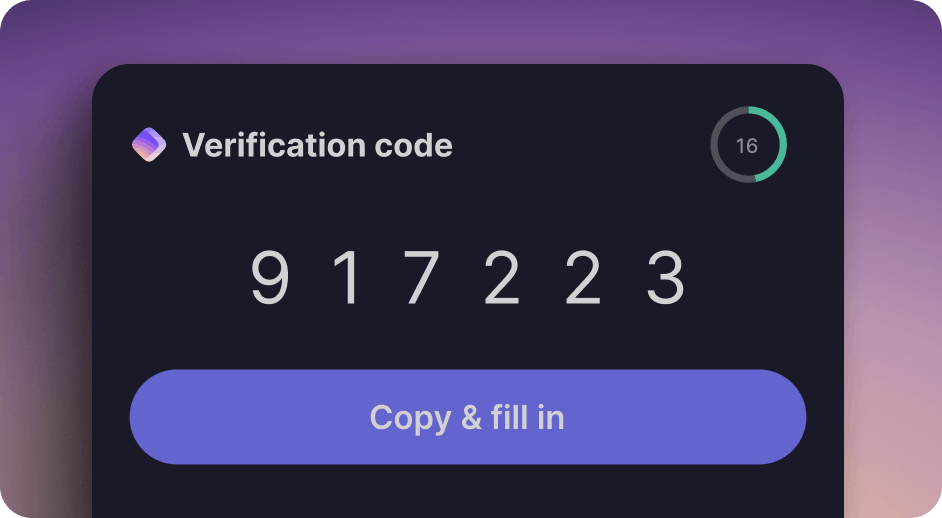 Integrated 2FA authenticator
Two-factor authentication (2FA) is one of the best ways to protect your accounts online.

Proton Pass makes 2FA easier with an integrated authenticator that stores your 2FA codes and automatically displays and autofills them.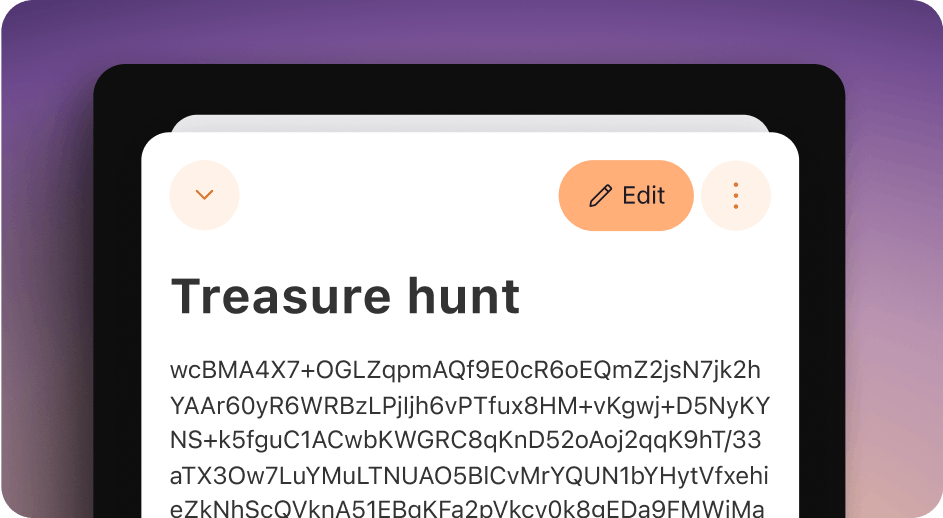 Built-in encrypted notes
With encrypted notes, you can easily save private notes, credit card numbers, and other personal information that only you can access on all your devices.

Securely share passwords
With secure vaults, you can categorize and safely share your login information, payment details, and notes with your family, friends, and co-workers.

Proton Sentinel
Proton Sentinel is our most advanced account protection system. It's designed for activists, journalists, and organizations at high risk of cyber attacks.
Sentinel makes Proton Pass the only password manager that blocks attackers from gaining access to your data, even if the attackers have the correct password. Sentinel is available with the paid version of Proton Pass.