Proton Mail
vs. Gmail
Proton Mail is a private alternative to Gmail. Like everything you do online, Google tracks the way you interact with your Gmail account for advertising purposes. In contrast, Proton Mail's end-to-end encrypted email gives you an inbox free from ads, trackers, spying, and data harvesting.
About Proton Mail and Gmail

Proton Mail is the world's most popular encrypted email service, based in Geneva, Switzerland. Switzerland has some of the world's strongest privacy laws.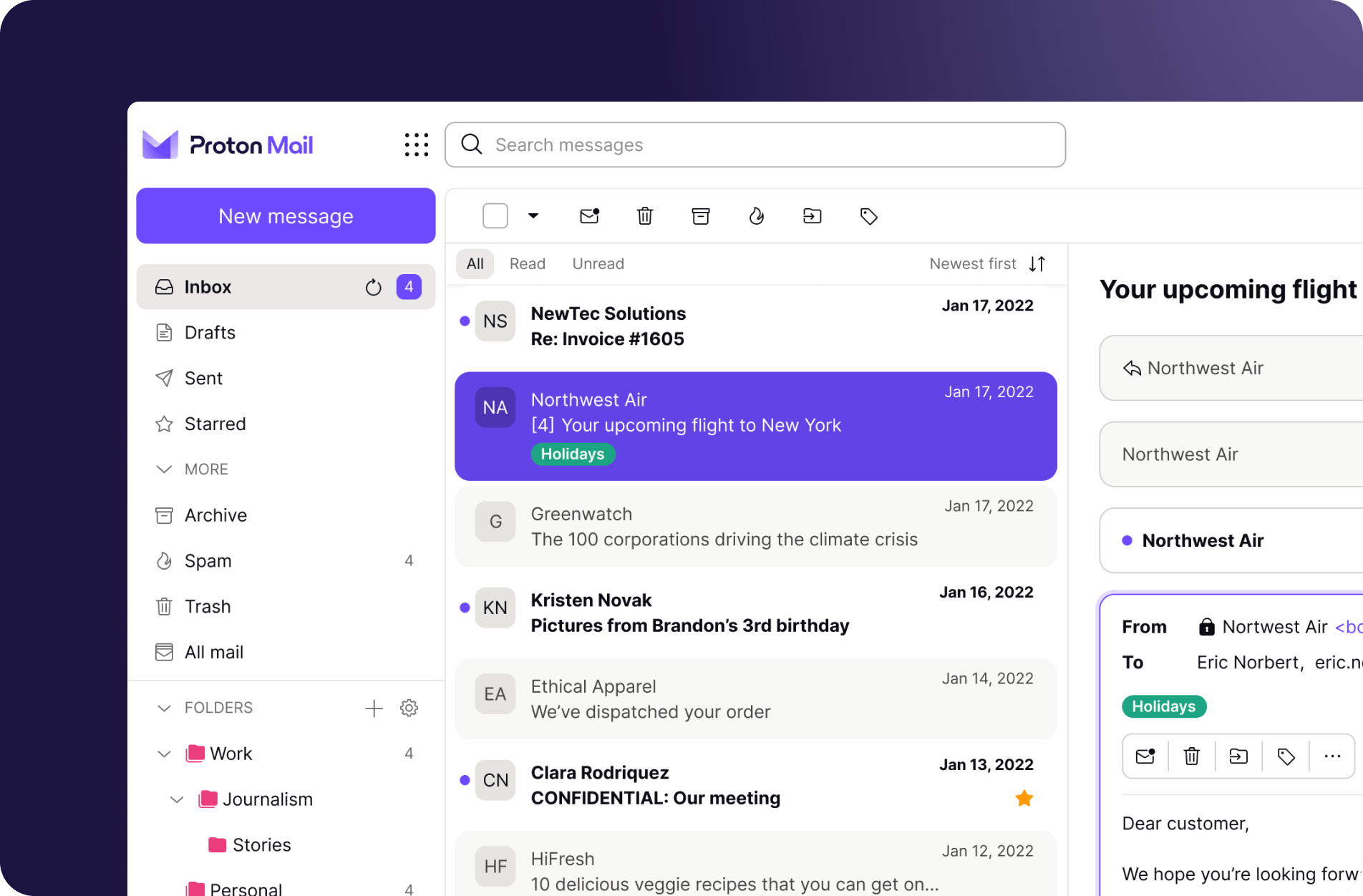 Both Proton Mail and Gmail offer apps for all your devices and let you easily manage your inbox. But while both services offer free plans, only Proton Mail is truly free: With Gmail, you pay with your privacy. Unlike Proton Mail, Google's business model depends on ads.
Proton Mail uses end-to-end encryption, so no one else can access your data — not even us.
If you're not sure which is better for you, we compare the main 
features of Proton Mail and Gmail below:
Still deciding between

Proton Mail vs. Gmail?

While Gmail scans your emails and lets third parties into your inbox, Proton Mail blocks all trackers and encrypts your messages so only you can read them. We believe you should be the one who chooses what happens to your data.
Private email
Proton Mail was founded by scientists who met at CERN, united by a desire to increase access to online privacy.
Security and transparency
As scientists, we believe in the value of transparency and peer review. That's why all our apps are open source, so anyone can inspect our code to verify it does exactly what we claim.
Free calendar, drive, and VPN
Proton and Gmail both have a suite of other tools to help increase your productivity and collaborate with friends and colleagues. But only Proton offers privacy.
Effortless organization
With both Proton Mail and Gmail, you can personalize your inbox, organize it easily with folders, labels and filters, and download apps for all your devices. Both services also let you sync your inbox with other email clients like Apple Mail and Outlook using IMAP.
Pricing
Gmail offers free service with up to 15 GB of storage. Additional storage can be purchased starting at $19.99/year.
Proton Mail Free
gives you up to 1 GB of encrypted storage. If you want additional storage and premium features, paid plans start at $3.49/month for 15 GB. Proton Unlimited gives you 500 GB of storage, three custom domains, unlimited hide-my-email aliases, and all features on other Proton services starting from $7.99/month.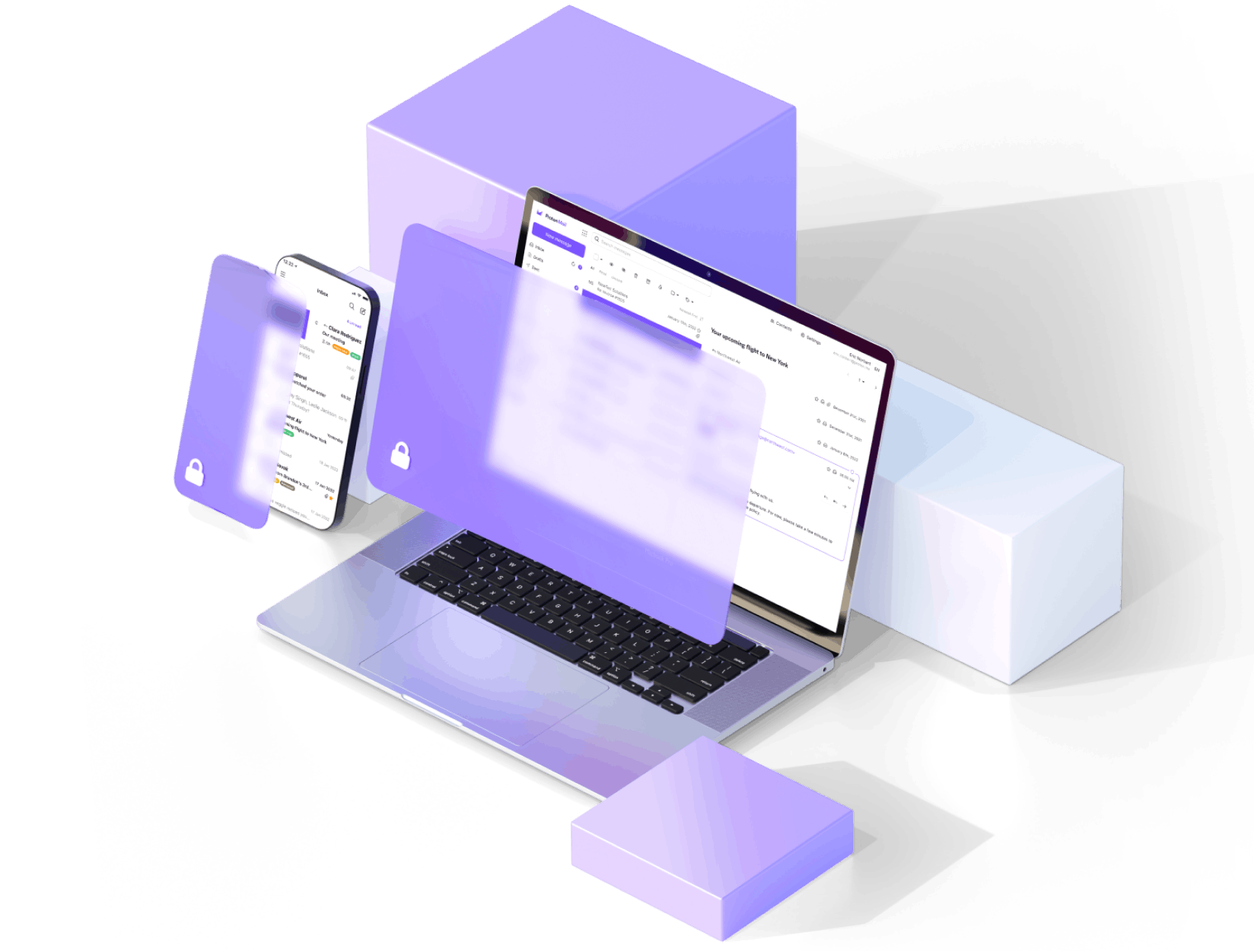 Proton Mail or Gmail?
When you choose Proton Mail, you're choosing an internet where you control your data and privacy is the default.If you're ready to switch to Proton Mail, you can easily migrate your emails and contacts with our Easy Switch feature. 
It also lets you
automatically forward your Gmail messages
with just a couple of clicks.
Proton Mail is the privacy-focused alternative to Gmail.
Create a free Proton Mail account
and start taking control of your data.