At Proton, we're building a privacy-centric internet, and that end goal guides everything we do. We believe privacy-centric products must be practical, intuitive, and useful for everyone worldwide. Proton Drive is a key part of that vision. It enables you to store and share files however you want — all while making sure no unauthorized eyes can get access.
In an increasingly mobile-first world, we must focus on making our privacy-centric internet serve the everyday needs of people from their mobile device. Today, we're pleased to announce the next step in the development of Proton Drive, one that puts privacy into the hands of millions — the launch of our Proton Drive apps for Android and iPhone/iPad. Our mobile apps are now available for download on the Apple App Store and Google Play Store. 
We developed Proton Drive to be the most private and secure cloud storage service available today, but we could not have done this work without you. We want to thank the thousands of Proton community members who participated in the Proton Drive beta on iPhone/iPad and Android. Your feedback allowed us to release the mobile apps just two months after the launch of the Proton Drive web app. These mobile apps bring us one step closer to being a fully-fledged, secure cloud storage alternative to Big Tech. 
Access your files from anywhere
Proton Drive's mobile apps give you the freedom to access your files and folders from anywhere, anytime. You can upload your files and photos to Proton Drive using your mobile app and access them either on your mobile device or on your laptop or desktop by logging in to the Proton Drive web app. Your files will be available seamlessly on all devices and platforms.
Even in today's constantly connected world, there are places with weak or no mobile network coverage. Our iPhone, iPad, and Android apps solve this problem by giving you offline access to your files and folders so you can access them without an internet connection. If you activate offline access for a file or folder, they'll be encrypted and saved on your device so that they can only be accessed through the Proton Drive app. This gives you constant access to your files without compromising their security. 
No compromises on security and privacy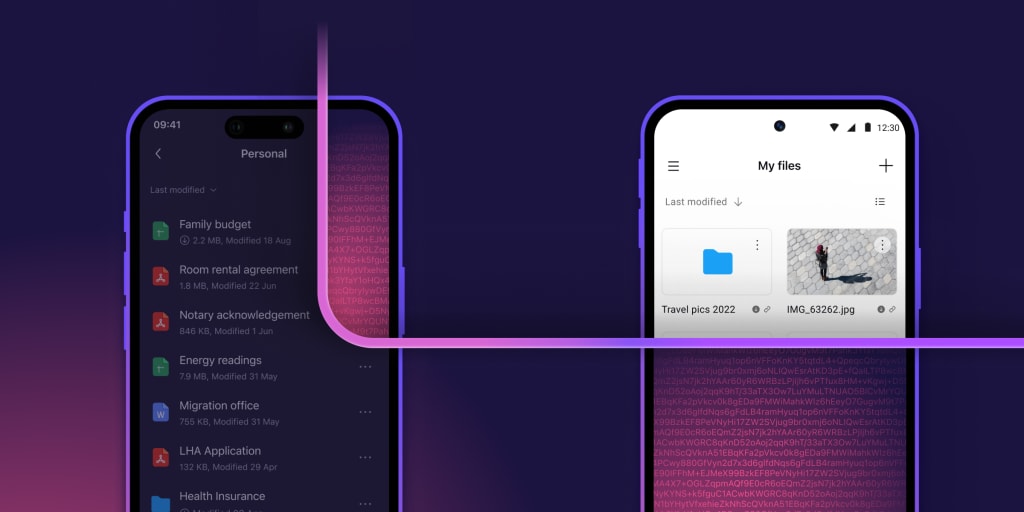 Improved accessibility doesn't affect the security and privacy of your data. All your files and folders are protected by Proton's open-source and publicly-audited end-to-end encryption(new window). Your files are encrypted on your mobile device using encryption keys you control, and best of all, this encryption happens automatically without requiring any action from you. This means Proton never has access to the unencrypted content of your files.  
We protect more than just the contents of your files. We also encrypt their associated metadata, such as file and folder names, real file size, file extensions, thumbnails, and more. Your data is stored on servers wholly owned and operated by Proton in data centers in Switzerland and Germany, giving it strong legal and hardware protections as well.
Learn how Proton Drive protects your privacy
Protect your data even if your iPhone is stolen
Proton Drive takes its protection even further. If you have an iPhone or iPad, you can require a PIN before the app will open. Proton Drive will use this PIN to generate a key that it uses to encrypt all Drive files you have stored locally upon your device. 
Only the correct PIN can decrypt these files, meaning that even if your iPhone or iPad is stolen, your locally stored files will remain secure.
Securely share files from your mobile device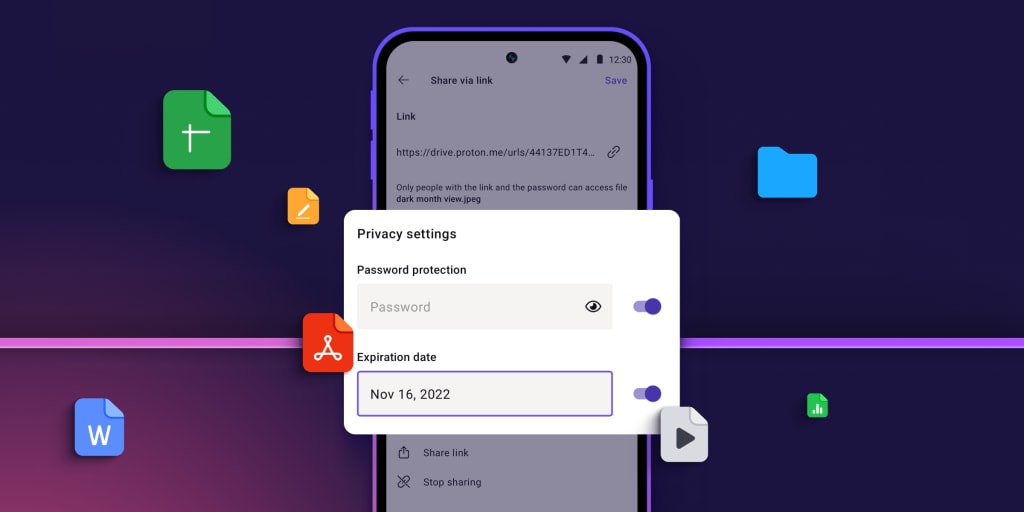 You can use the Proton Drive mobile apps to generate secure file-sharing links that you can send to your friends and colleagues, even if they don't have a Proton account. The files you share are delivered in an encrypted environment and can be downloaded securely by the recipient(s). 
Enhanced sharing features, such as password protection and link expiration dates, provide an added layer of security to your shared files. There are no file size limits, so you can share and transfer large files securely. 
Discover how to share files securely with Proton Drive
More platforms coming soon 
The data you store in the cloud is more than just a collection of files and folders. It includes sensitive information, like your medical records, identification documents, contracts, and bank statements. It can also be a collection of your favorite memories, such as emails, photos, videos, and more. Taken together, what you store on the cloud reveals a lot about your habits, social life, and beliefs.
In short, your data tells the story of your life — what you do, who you know, and what you believe. This story should be yours to tell, and only yours to tell.
By using Proton Drive, you take control of your digital story. The data you store on Proton Drive is data no longer under the control of Big Tech or subject to government mass surveillance. 
At Proton, we want to help you protect every aspect of your digital life from data breaches, government overreach, and Big Tech surveillance. 
In the spirit of this mission, we intend to make Proton Drive available across all platforms (including Linux, eventually). The Proton Drive Windows app will be available in beta shortly, followed by an app for macOS. We look forward to launching them as soon as possible next year!