Free cloud storage
to protect your files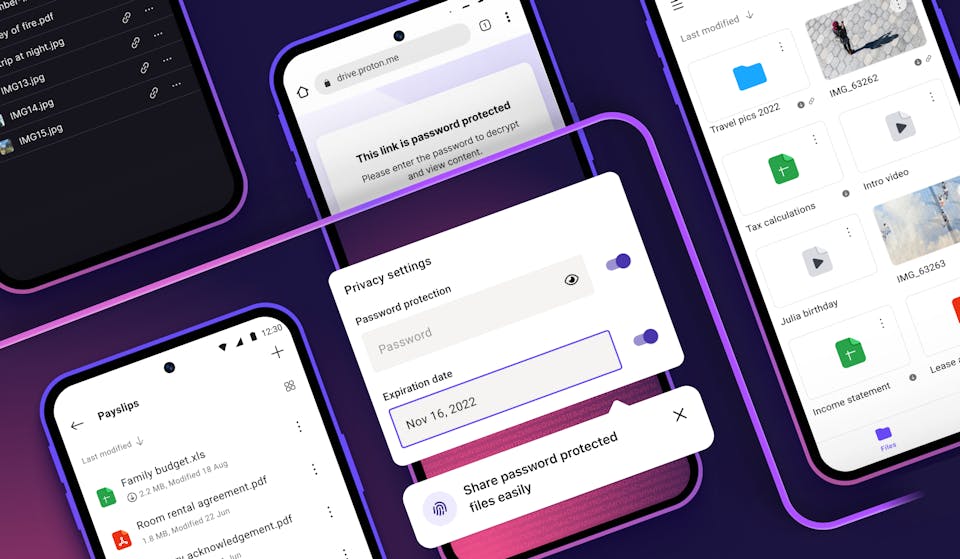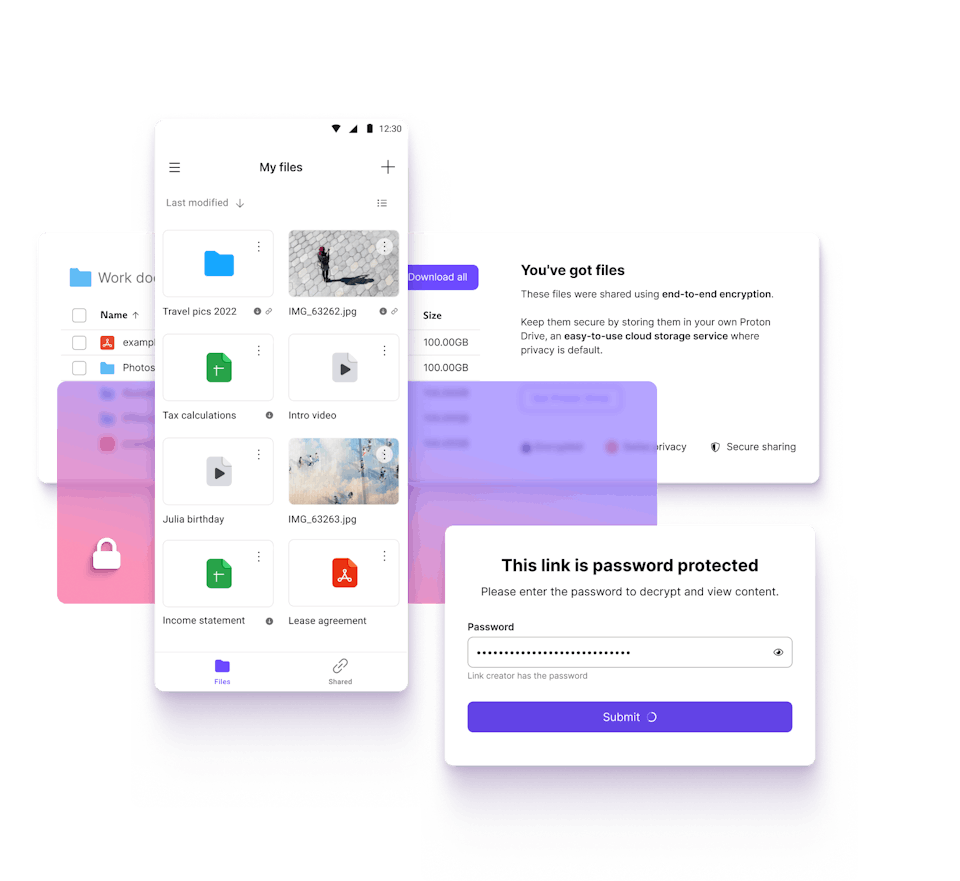 The best free cloud storage available
Proton Drive is developed by the scientists and researchers behind Proton, the world's leading privacy and security company. Our free cloud storage is the only one that is:
End-to-end encrypted
Ad-free & free forever
Open source and audited
Protected by Swiss privacy laws
Free end-to-end encrypted cloud
All files on Proton Drive are protected with end-to-end encryption, regardless of whether you have a free or paid plan. End-to-end encryption means that nobody, not even us, can decrypt the files that you upload, guaranteeing the privacy of your files and documents.
Upgrade to a paid plan to get access to
Our free cloud storage is supported by paying users. If you would like to support our mission, please consider upgrading.
Why we offer cloud storage for free
Proton's mission is to build a better internet where privacy is available for all, and providing free services is part of our mission. Proton Drive free has all security and privacy features, without catches. The service is free forever, with no ads.
End-to-end encryption
Basic file sharing
1 GB storage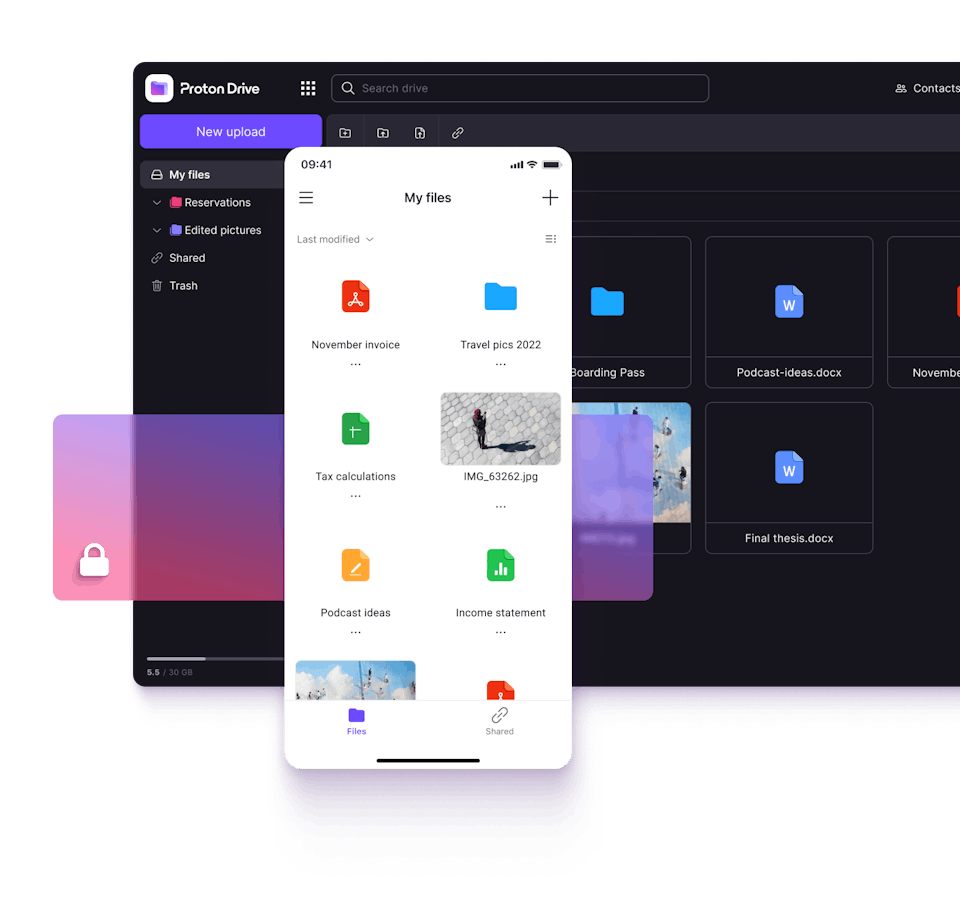 Feature-rich free cloud storage
Free file sharing
Share large files securely for free via encrypted links that can be generated in one click. Additional features such as password protection, expiry dates and easy-revoke deliver maximum control over shared-links.
Access files from anywhere
Files sync automatically across devices so you can access stored files from your desktop, mobile or any web browser. With Proton Drive access your files securely from anywhere, anytime.
Free file backup
Unlike with SSD and other local storage, your files are automatically backed up to the cloud when you store them on Proton Drive. This means your files are safe and accessible even when your hardware malfunctions.
Swiss data protection for free
Unlike other cloud storage services, your files and data are protected from government surveillance by Swiss data privacy laws which are the strictest in the world.
Free hosting on own servers
Your files are hosted on servers that are owned and operated by Proton. This makes us a more secure cloud storage service when compared to services that use third party hosting such as Amazon Web Services or Microsoft Azure.
Free storage that's easy to use
Proton Drive delivers rigorous end-to-end encryption and security without compromising on great design or ease of use. Your free account comes loaded with features that make it remarkably easy to store, share and sync your files safely and securely.
Protect your files with Proton Drive
End-to-end encrypted
Secure file sharing
Open source & independently audited
Swiss data privacy
Hosted on own servers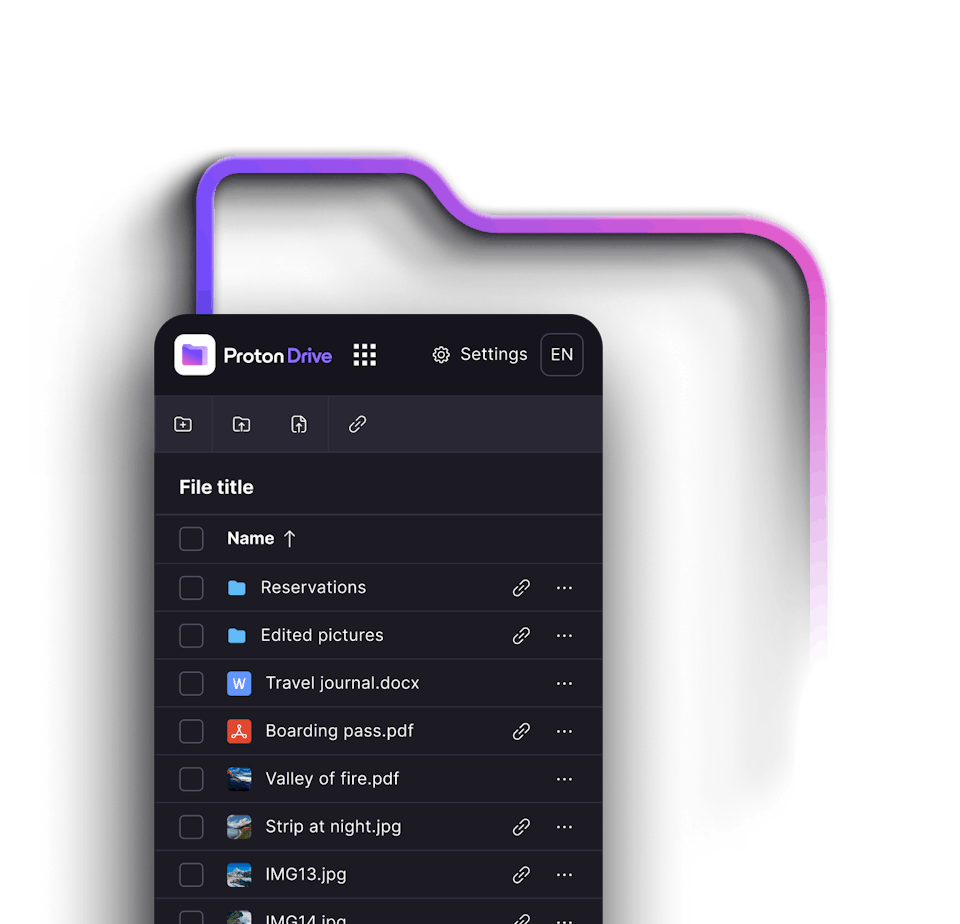 Frequently Asked Questions