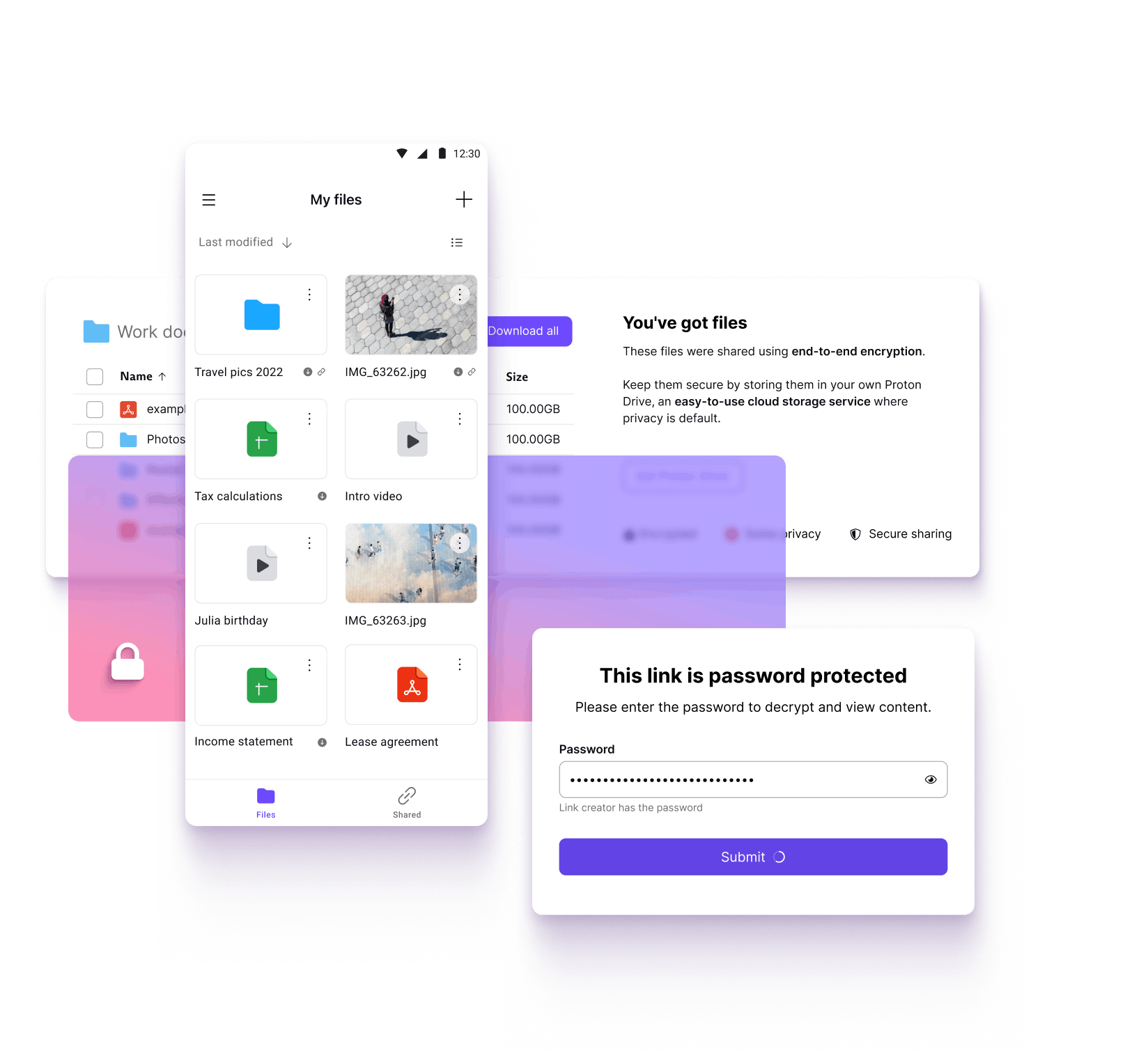 Free secure cloud storage
Proton Drive is a secure vault that protects your files and your privacy. Our free cloud storage is the only one that is:
End-to-end encrypted
Free forever with no ads
Open source and audited
Protected by Swiss privacy laws
End-to-end encrypted cloud storage for everyone
All files on Proton Drive are protected with
end-to-end encryption
, regardless of whether you have a free or paid plan. End-to-end encryption means that nobody, not even us, can decrypt the files that you upload, guaranteeing the privacy of your files.
Free cloud storage with premium features
Unlimited file sharing
Proton Drive doesn't impose any limits on the number of people who can use your file sharing link, whether you have a paid plan or not. You can also share files of any size for free; the only limit is the remaining storage in your drive. For extra storage, you can upgrade to Drive Plus or a Proton Unlimited account.
Share files with a link
You can share your end-to-end encrypted files with anyone by creating a file-sharing link for free. Proton Drive's link sharing feature includes the option to revoke access to your file at any time, or set an expiry date, giving you full control of who can access your file and when.
Password-protected file sharing
You can make your end-to-end encrypted file sharing links even more secure by password-protecting them. Setting a password protects your file even if the file sharing link falls into the wrong hands, only those who know the password will be able to access the file.
Multi-platform sync
Proton Drive automatically synchronizes the files you upload across all your devices. For example, if you upload a file in your web browser, you will be able to access it in the Android or iOS app on your mobile device.
Encrypted file search
Proton Drive's encrypted search function allows you to quickly look up any file in your drive by creating a local index of your files on your device. This means you can easily find a specific file without anyone — not even Proton — knowing its contents.
Share files with anyone
You can share your encrypted files for free with anyone, even if they do not have a Proton Drive account. Your shareable links can be accessed by anyone with the link (and any password you have set), and remain protected with end-to-end encryption the entire time.
Compare free cloud storage providers
Proton Drive Free offers feature-rich cloud storage without compromising on your security or privacy. All Proton Drive plans are protected by the same strong end-to-end encryption.
Free comparison table

| Free Drive features | Proton Drive | Mega | pCloud | Synch |
| --- | --- | --- | --- | --- |
| Web access | | | | |
| Mobile access (Android/iOS) | | | | |
| Secure file sharing | | | | |
| End-to-end encryption | | | Paid only | |
| Download traffic bandwidth (1) | Unlimited | 5 GB/day | 50 GB/month | Unlimited |
| Active share links (2) | Unlimited | Unlimited | Unlimited | 3 |
| Link expiration (3) | | | | |
| Password protected link sharing (4) | | | | |
| Unlimited transfers (5) | | | | |
| Two-factor authentication (2FA) | | | | |
Why we offer free cloud storage
Proton's mission is to build a better internet where privacy is available for all, and providing free services is part of our mission. Proton Drive Free has all
security and privacy features
, without catches. The service is free forever, with no ads.
1 GB storage
Our free cloud storage is supported by those who choose to subscribe to our paid plans, which come with additional storage and premium features. You can try one of our paid plans risk-free with our 30-day money-back guarantee.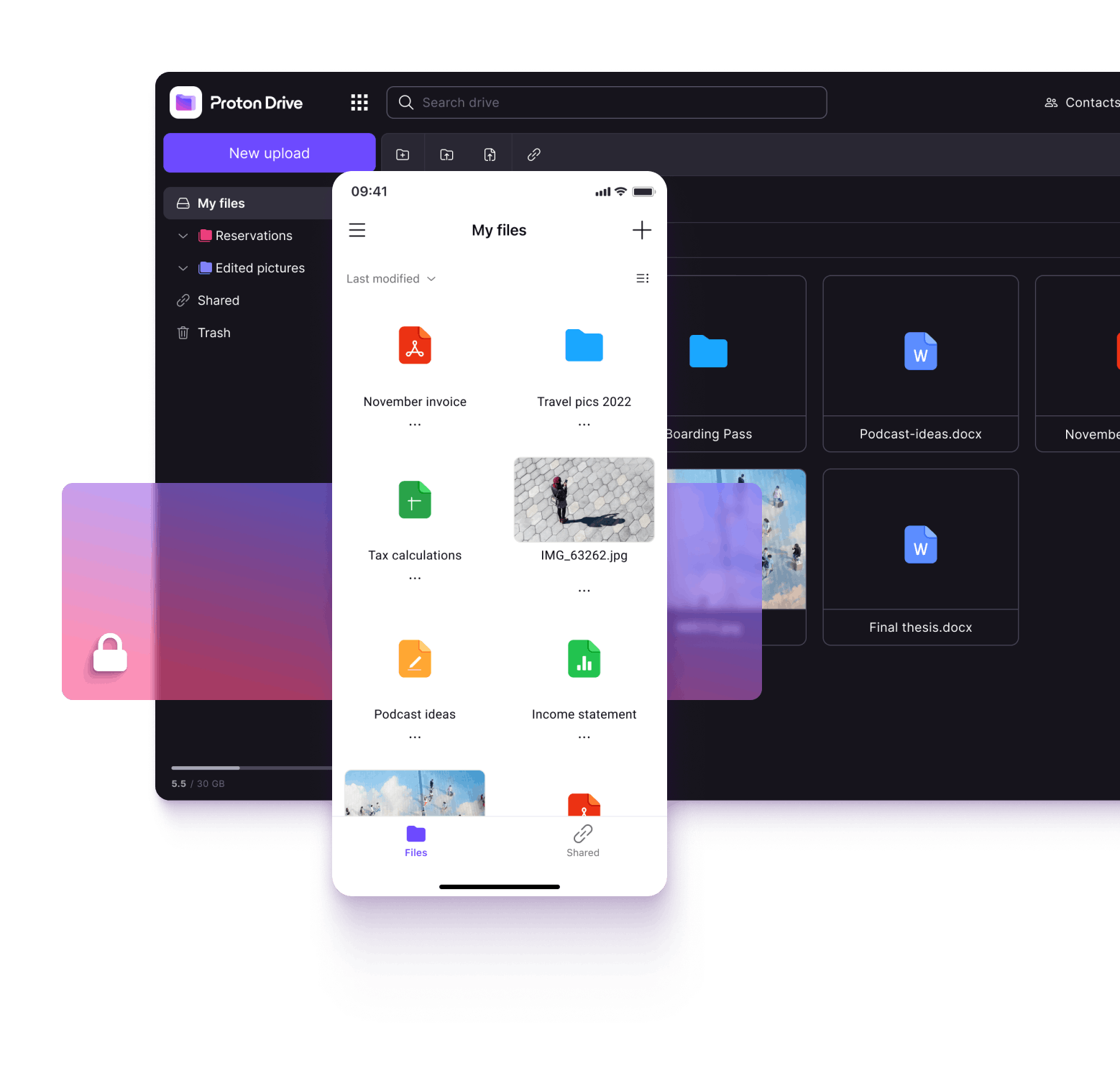 Why use Proton Drive Free
Access files from anywhere
Files sync automatically across devices so you can access stored files from your desktop, mobile or web browser. With Proton Drive you can access your files securely from anywhere, at any time.
Free file backup
Proton Drive automatically backs up your files to the cloud, unlike SSD and other local storage. Your uploaded files can even be made available offline. This means your files are safe and accessible even when your hardware or internet malfunctions.
Swiss data protection
Proton Drive is based in Switzerland which protects you from government surveillance as it is not a member of any intelligence-sharing alliances like the Five Eyes(new window) and also has some of the world's strongest data privacy laws.
Secure cloud servers
Proton owns and operates all the servers that your files are hosted on. This makes Proton Drive more secure than cloud storage services that use third party hosting such as Amazon Web Services or Microsoft Azure.
Easy to use
Proton Drive uses robust end-to-end encryption without compromising on great design or ease of use. Your free account comes loaded with features that make it remarkably easy to store, share, and sync your files safely and securely.
Frequently Asked Questions
---
Does the free Proton Drive sell my data or have ads?
Is the free version of Proton Drive encrypted?
What are the benefits of a free Proton Drive account?